About Us

MICHAEL HAWKINS
President & Principal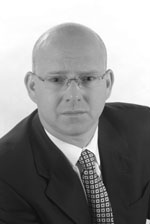 Michael is the founder and President of Hawkins Consulting Corporation. At Hawkins Consulting, Michael enjoys serving clients in Canada, the United States and the Caribbean. Before founding Hawkins Consulting, Michael worked as a consultant to the insurance industry at a large international consulting group. With his extensive experience in the financial services industry, Michael has developed knowledge and experience across multiple disciplines. Michael has expertise in insurance, investments, corporate finance and securitization.
Through his work as a consultant and his prior position with a multi-national insurance company, Michael has developed strong skills in project management, negotiation and financial modelling. His responsibilities in these positions included developing new insurance products, managing the product implementation process, pricing life, health and annuity products, insurance product portfolio reviews, merger and acquisition valuations, financial reporting and developing models to assess corporate solvency.
By profession, Michael is an actuary and is enrolled as a Fellow of the Society of Actuaries (F.S.A.) and holds the designation of Fellow of the Canadian Institute of Actuaries (F.C.I.A.). By training, Michael is a mathematician. A graduate of the University of Waterloo, Michael was granted a Bachelor of Mathematics degree in Honours Actuarial Science (BMath). Michael graduated With Distinction, Dean's Honour List.
Michael's business interests lie in leveraging his expertise, experience and training to design and implement solutions that meet the needs of financial institutions, businesses and individuals.
Testimonials
Available upon request.

Hawkins Consulting Corporation is a limited liability company incorporated in the Province of Ontario, Canada.
Life Valuator is a registered business name of Hawkins Consulting Corporation.


© 2001-2021 Hawkins Consulting Corporation